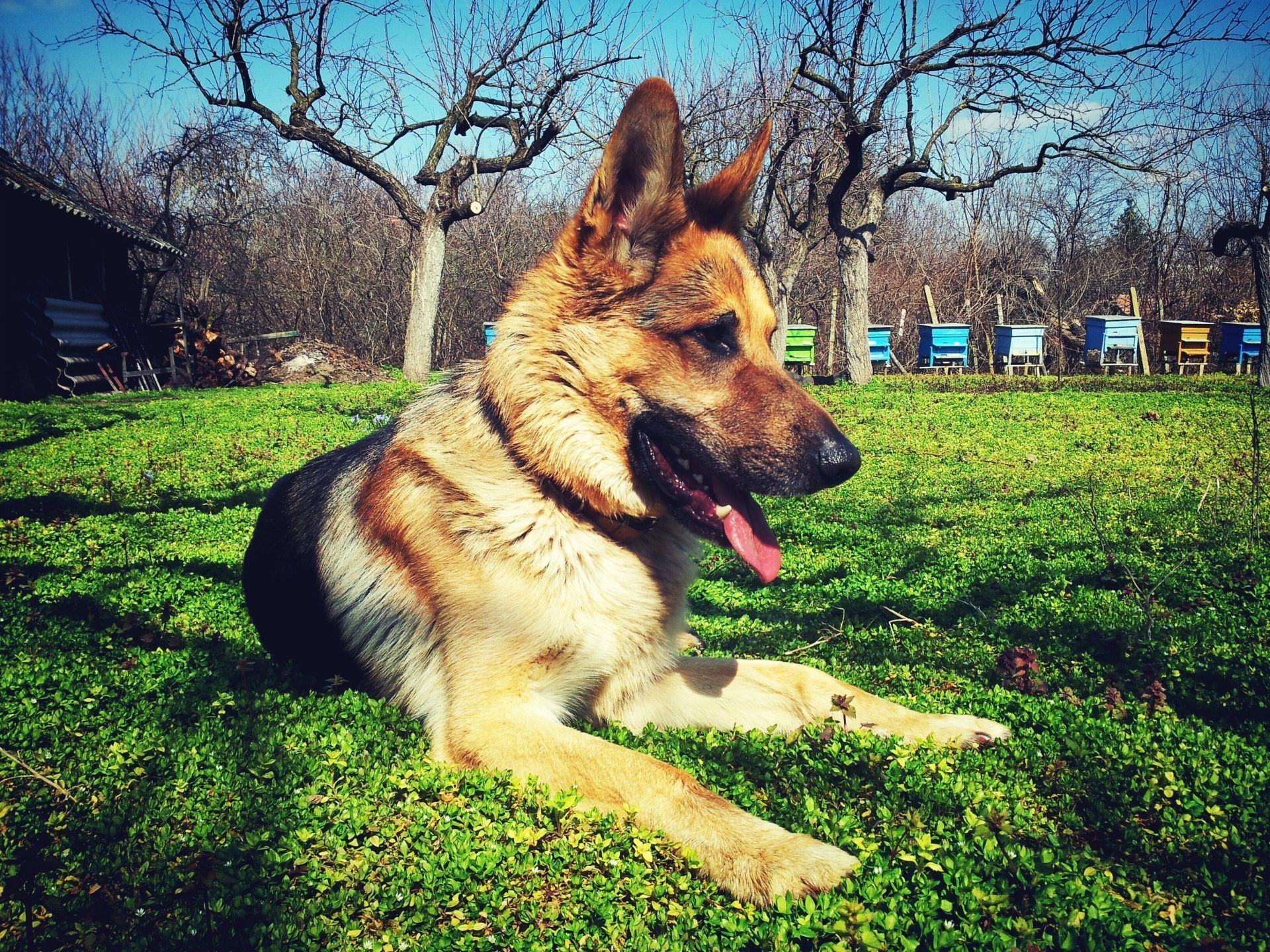 When Glim first started visiting Dec's Pets, he would come to us for all of his favourite toys & treats! He soon became one of our regulars, which was when we got to know his owner, and in turn, of his unfortunate start to life. Here we document Glim's journey to healing a lifelong ailment. Read more to hear his story of how Nodens Grain Free dog food transformed his life.
The Story
At 8 months old, Glim, the German Shepard puppy, was suffering unhealthy weight-loss as a result of chronic diarrhoea. Imaginably Paul (Glim's owner) was concerned for his pups well being. For the first year of Glims life, he was in and out of veterinary clinics, trying to narrow down the cause of his deteriorating condition.  After a series of blood tests, xrays and check ups, Paul decided to research into the potential causes of Glims issues himself.
The symptoms shown and results found were conclusive of a pancreatic disorder (EPI). The vet prescribed Glim with a supplement used to treat exocrine pancreatic insufficiency. This particular condition means that the pancreas fails to produce the enzymes necessary to absorb nutrients such as fats, protein and carbohydrates from food. Potential symptoms:
Diarrhoea
Gas and bloating
Stomach pain
Weight loss
Along with the supplement, Paul was advised to feed Glim a well known veterinary brand dry food, with additional salmon oil and fish.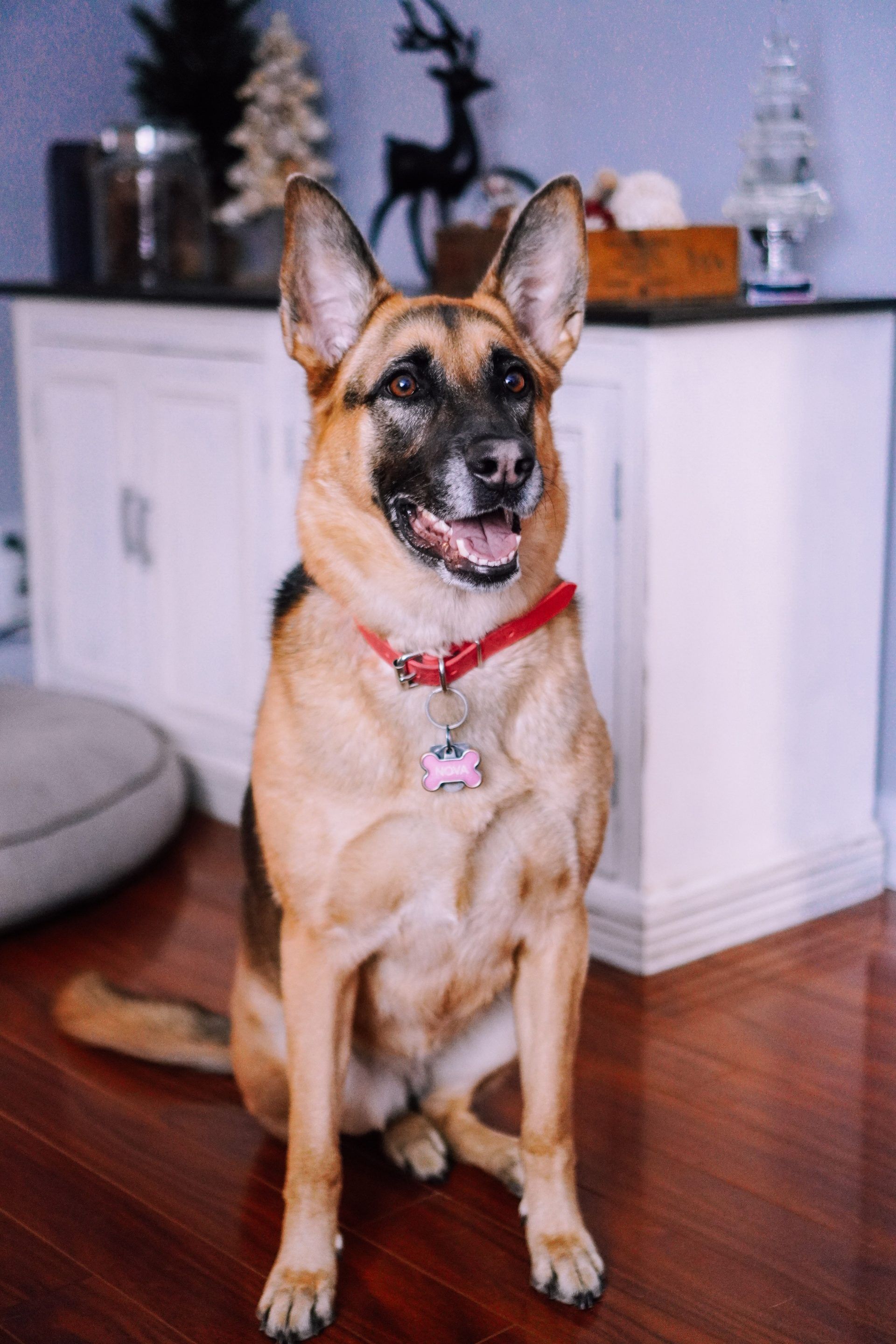 Profile
Pet: Glim
Breed: German Sheperd
Age: 7 years
Siblings: Cody the Jack Russell
Pawrent: Paul
Favourite Food: Nodens Grain Free
Holistic Approach To Healing
At Dec's Pets we take a holistic approach to the health and well being of your pet. We look at lifestyle, health & grooming regime before making considered recommendations on how to treat your concerns.
On Paul's first visit to Dec's Pet, he came in looking for dog accessories. Realising that we have a grooming studio in store; Paul discussed with Head Groomer Aoife, how Glim had never been groomed before, but felt it would be of benefit to him.
By this stage, most of Glim's symptoms had improved due to the medication. However he was still suffering with his skin, Paul noticed that Glim had become so irritated by it, that he would scratch to the point of drawing blood. As a result, Glim was also losing a lot of fur.
Glims Treatment Plan
Dec's Pets Head Groomer Aoife, suggested that they start Glims treatment plan with a mud bath, followed by a groom. After the first treatment, Paul's mind was put at ease, originally being concerned that Glim would dislike the experience due to his ongoing skin condition. Much to his delight Glim loved his treatment, it was clear that he found the experience extremely soothing. There was an improvement in the condition of his coat instantly.
Paul then booked both Glim (& his brother from another mother Cody the Jack Russell) in every 4 weeks for their pamper sessions.
However when it came to Glim's second treatment, Aoife was still concerned about his skin. It was prevalent that the condition hadn't improved. Aoife knew that the course of treatments would aid soothing Glim, but wouldn't eradicate the underlying issue.
At this point in Glim's journey, his owner Paul was left no choice but to source his medication from elsewhere as the bills for the vets were becoming extortionate, he was spending €100 per week on the medication alone. Thankfully he was able to cut this cost by a third.
What Next?
With Paul left wondering what more he could do, the team at Dec's Pets discussed Glims condition. Typically with cases like this, the team go back to basics:
Overall health
Is he taking medication?
What does he eat?
What other lifestyle choice could impact his condition?
This is when Dec & Anna discussed moving Glim onto Nodens Grain Free.
More Energy
Healthier Skin
Shiny Coat
Less Shedding
Reduced Flatulence (yep that's right!)
Healthy Immune System
Above are only some of the benefits of Nodens Grain Free. The team specifically advised Paul try Glim on the Salmon & Trout for Large Breeds. Which is packed full of key vitamins nutrients & amino acids, helping further improve Glims skin condition. Paul left Dec's Pets with a perfectly groomed pooch & loads of free samples of food to try! Win win!
Within 1 week of changing his food, the sores on Glims skin had improved. Better yet, Glims best friend (who is super picky with food) LOVED the Nodens so much that Paul decided to buy it for both of his pets.
The amount Glim is shedding has reduced drastically, as has the amount he is scratching his fur/ skin.He now only has some sores on his paws, with the mud bath treatement having taken care of the rest.
The Outcome, Nodens Grain Free Dog Food
Glims journey with Nodens Grain Free is only 3 months in, but even in these early days he already is 90% of the way to healing. The difference in this dog from only changing his diet & grooming regime is outstanding. Inspired by Paul's dedication to his beloved pet, we knew we had to share this story with you all.
The best part is, Paul is now giving Glim the best possible chance at a healthy happy life whilst saving money.
**Please note the above savings are approximates only & based on averages. This may not be accurate to your own pet. Calculated around an average lifespan of average weight male German Shepherd**