Introduction
Dublin, the vibrant capital of Ireland, boasts a rich tapestry of culture, history, and a growing reputation as a pet-friendly city. While debates swirl around the extent of its dog-friendliness, a closer look reveals a dynamic interplay of factors shaping the experiences of our furry companions and their humans. From the inception of pet allowances to the evolving trends in dog ownership, this article delves into the heart of Dublin's relationship with its four-legged denizens.
The Path to Pet Inclusivity: Arguments For and Against
Pet inclusivity has become an important topic of discussion in cities around the world, including Dublin. Supporters argue that creating a pet-friendly environment fosters a sense of community and encourages social interaction among residents. Dublin, with its vibrant neighbourhoods and beautiful outdoor spaces, has the potential to embrace pet inclusivity.
One of the main arguments for pet inclusivity in Dublin is the positive impact on public health and well-being. Studies have shown that spending time with animals can reduce stress and improve mental health. Allowing dogs in public spaces like parks and outdoor seating areas in restaurants and cafes can create opportunities for people to enjoy the company of their canine companions while engaging in physical activity or socialising with other owners.
However, there are also valid concerns and challenges to consider. Some argue that allowing dogs in certain public spaces may compromise hygiene and cleanliness. To address this, strict regulations can be put in place, such as requiring dogs to be on leashes and mandating that owners clean up after their pets. Providing amenities like water bowls and waste stations can also help alleviate these concerns.
The benefits of pet inclusivity are numerous. It not only encourages people to spend more time outdoors and supports local businesses such as dog-friendly pubs and restaurants, but it also strengthens the bond between owners and their pets. Furthermore, a pet-friendly environment can attract more tourists who want to explore Dublin with their furry friends.
In conclusion, arguments for pet inclusivity in Dublin highlight its potential for improving public health and well-being and fostering a sense of community. While concerns surrounding hygiene and regulations exist, implementing proper guidelines and amenities can address these challenges. Ultimately, developing a pet-friendly environment can enhance the city's reputation as a welcoming and vibrant place for both residents and visitors.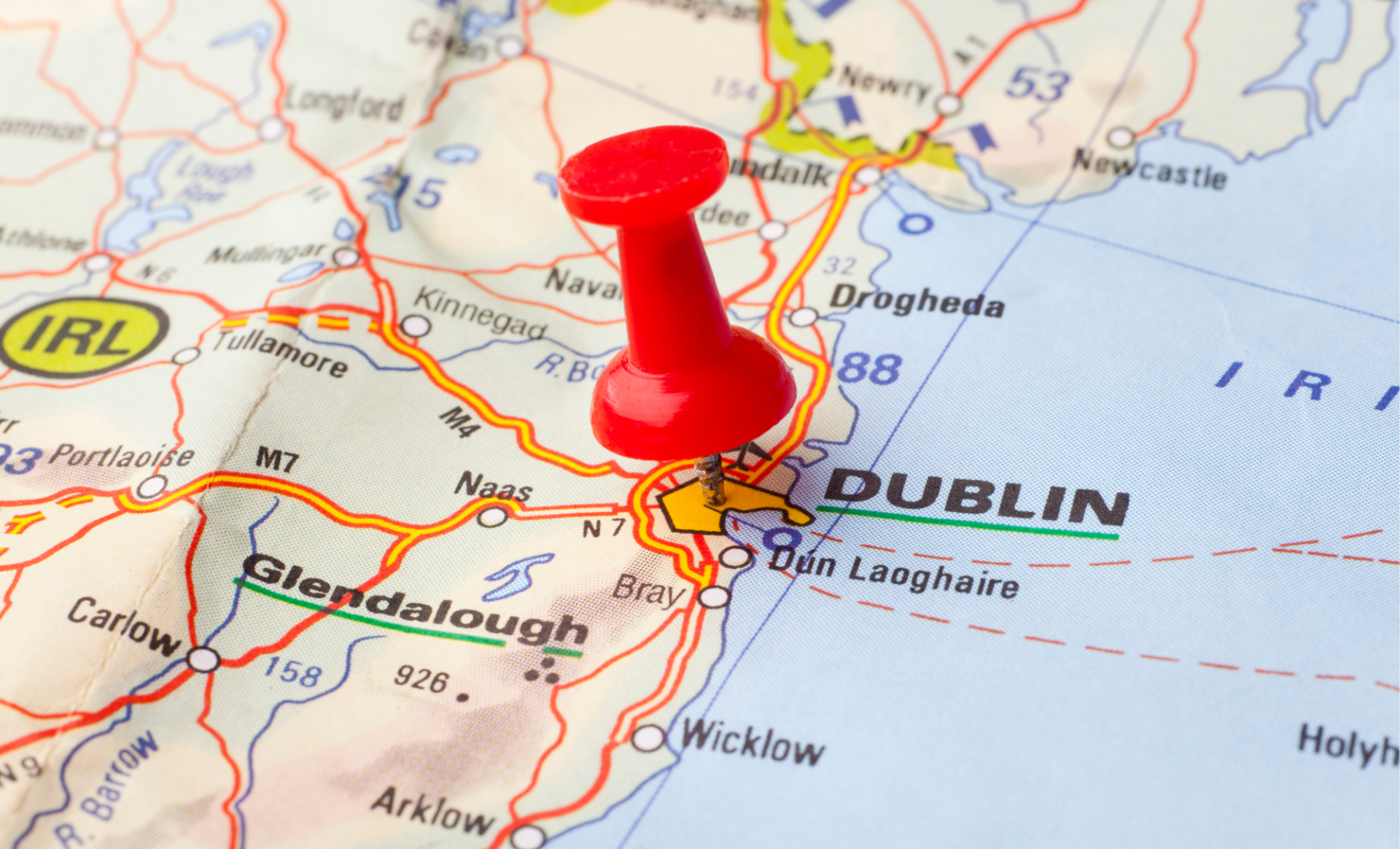 A Glimpse into the Past: The Evolution of Pet Access in Ireland
In recent years, Ireland has seen a significant shift in its pet-friendly policies and regulations, allowing for greater access and acceptance of our four-legged companions. Dublin, once known as one of the least dog-friendly cities in Europe, has made strides to improve its reputation and cater to the needs of canine lovers.
Historically, pet access in Ireland was limited, with many establishments, including restaurants and cafes, enforcing a strict no-pets rule. However, the growing demand for dog-friendly environments has prompted a change of heart. Dublin's ranking as an unfriendly city for dogs has driven local authorities to review their regulations and make necessary adjustments.
Today, dog-friendly pubs, restaurants, and cafes can be found throughout Dublin, with many establishments welcoming dogs with open arms. These pet-friendly spots ensure that your canine companion can join in the fun while you enjoy a delicious meal or a cup of coffee. Water bowls are provided, and many places offer outdoor seating, making it the perfect spot to relax and unwind with your furry friend.
For those planning to travel to Ireland with their dogs, certain requirements must be met. This includes a worming treatment, a microchip, a rabies vaccine, and a pet health certificate or EU pet passport. These regulations help to ensure the safety and well-being of both pets and their owners.
As Dublin continues to evolve into a more dog-friendly city, it is important to stay informed about the latest pet access policies. Whether you are exploring the scenic beauty of Phoenix Park, the stunning views from Killiney Hill, or the vibrant streets of Dublin City, you are sure to find plenty of dog-friendly places to enjoy with your furry companion.
All you need to know about living in Dublin with a dog.
Living in Dublin with a dog can be a wonderful experience for pet owners. With so much to do and see, the Emerald City is an ideal city for exploring with your canine companion. Whether you are an avid hiker taking in the sights of Phoenix Park or walking along Sandymount beach, there is something special about spending time together outdoors in one of Europe's greatest cities.
However, as with any new environment, it is important to know all the regulations before introducing your pup into their new environment. Barking dogs need to be curtailed and kept on leads or muzzled when entering public spaces such as parks. It is also important to keep your pet under control at all times and dogs should not be allowed onto beaches from certain hours until sunrise due to bird protection laws. Additionally, owners will need a licence for their four-legged family member which can be achieved through applying for a Licence from An Garda Siochana at local Garda stations. Finally, plan ahead if travelling further afield as pets may need additional paperwork or regulations depending on country destination and returning requirements may impact availability and turnaround time needed for applications.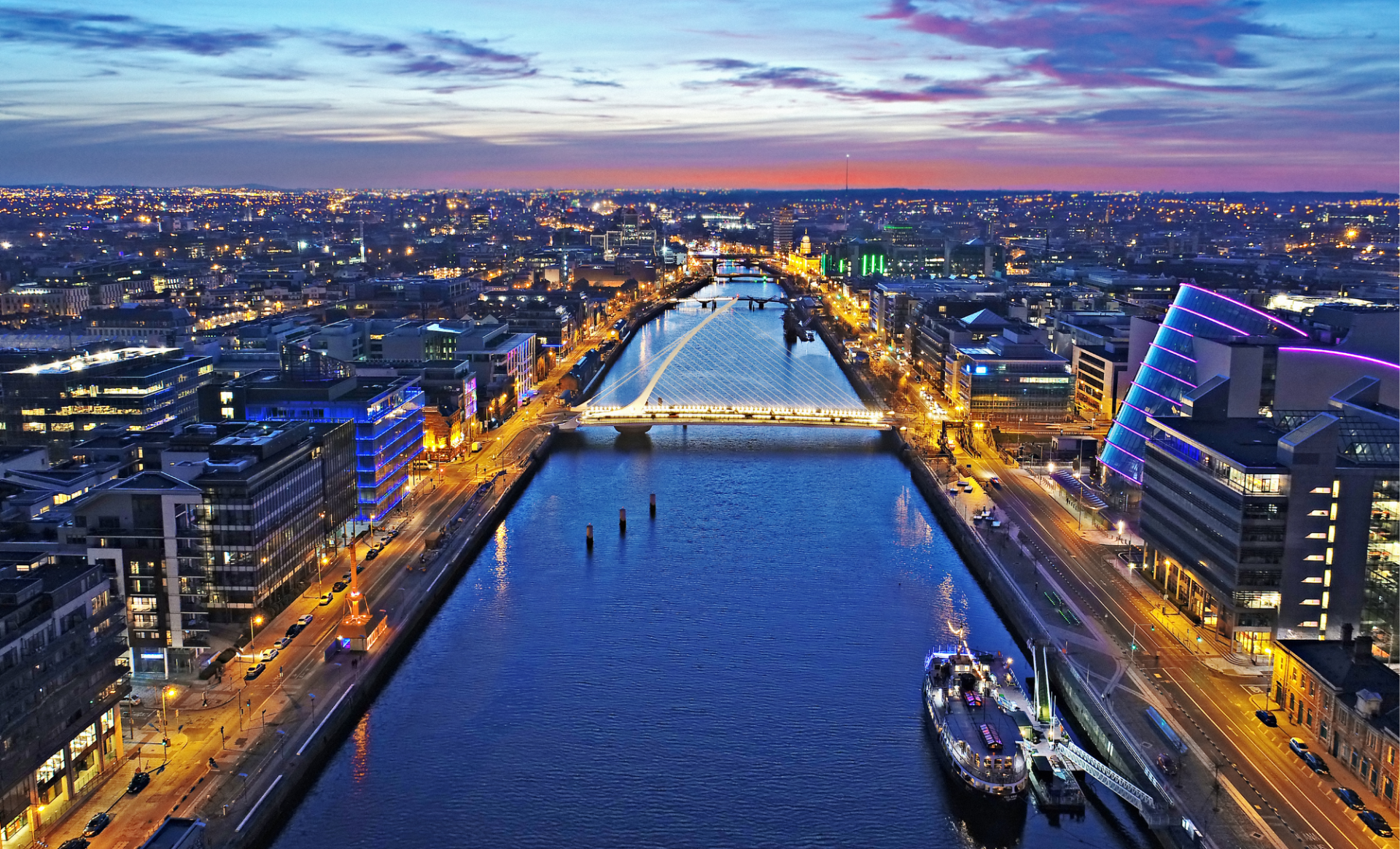 Vaccinations and registrations
These are essential for responsible pet ownership. All dogs over the age of twelve weeks must be microchipped and vaccinated by a veterinarian that will include their vaccination details and microchip identification in the records. Dublin has put regulations in place where it is illegal to buy or sell puppies without being registered in an approved database. Additionally, all dogs above the age of four months must compulsorily be registered with the local authorities.
If you are a new pet owner who recently moved to Dublin, you have thirty days from the date of moving to register your pup. Exemptions apply when it comes to guide dogs as well as puppies under the age of four months, which don't require any licensing. Vaccinations and registration laws are important for us to follow so our pets can remain healthy and safe while living happily in our homes or communities.
Public Transport
When it comes to exploring Dublin with your furry friend, the city offers some dog-friendly public transport options. But not all public transport option are welcoming to dogs so we have decided to outline each of them and their current policy on allowing dogs:
Dublin Bus: Dogs are allowed on Dublin Bus services, but the driver has the final say. The driver may refuse to allow a dog on the bus if it is not well-behaved or if it is too large. Dogs must be kept on a lead and muzzled at all times. There is a €10 charge for bringing a dog on Dublin Bus.
Luas: Dogs are not allowed on the Luas tram. This is because the Luas is a light rail system and the carriages are smaller than buses.
DART and commuter trains: Dogs are allowed on DART and commuter trains provided they are properly restrained. This means that they must be kept on a lead at all times and either in a basket or on a muzzle. Dogs can only travel on intercity (Dublin-Cork and Dublin-Belfast) trains in the guard's van (non-passenger compartment).
Irish Rail Intercity buses: Dogs are allowed on Irish Rail Intercity buses, but they must be kept on a lead and muzzled. There is a €10 charge for bringing a dog on Irish Rail Intercity buses.
Here are some additional tips for taking your dog on public transport in Dublin:
Make sure your dog is well-behaved and under control at all times.
Clean up after your dog if it makes a mess.
Be prepared to pay the pet fee.
Be understanding if the driver refuses to allow your dog on the bus.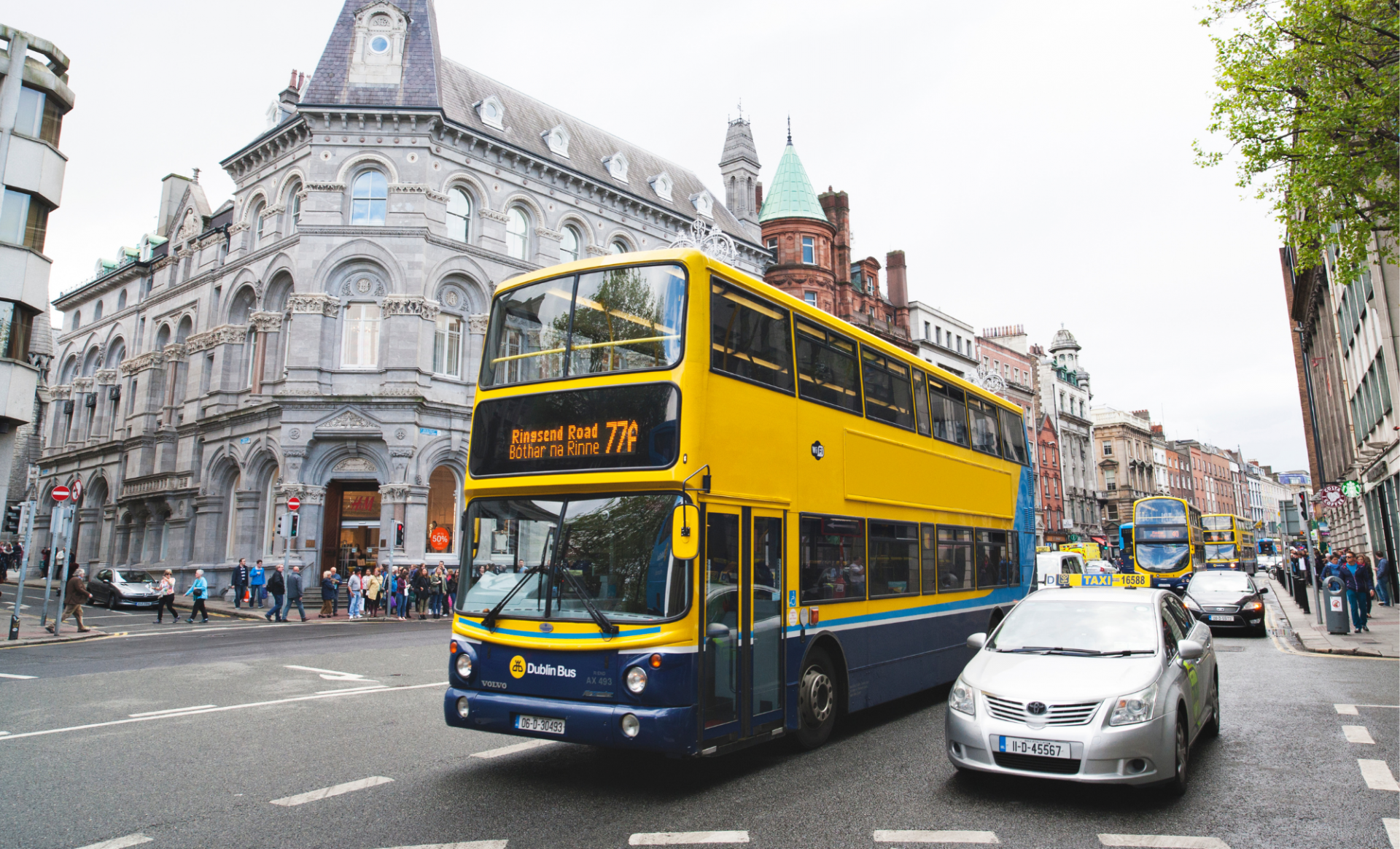 Now for the fun stuff……
So, now that we've delved into all the nitty-gritty details, it's time to cut to the chase. Let's see where in the capital city of Dublin our furry pals are welcomed with open paws. From cool cafes, cozy pubs, to pet-friendly hotels and restaurants, we've scouted out the spots that roll out the red carpet (or should we say, green grass?) for your four-legged sidekick. It's time to hit the road and explore Dublin's dog-friendly hangouts where tail wags and happy woofs are part of the local charm.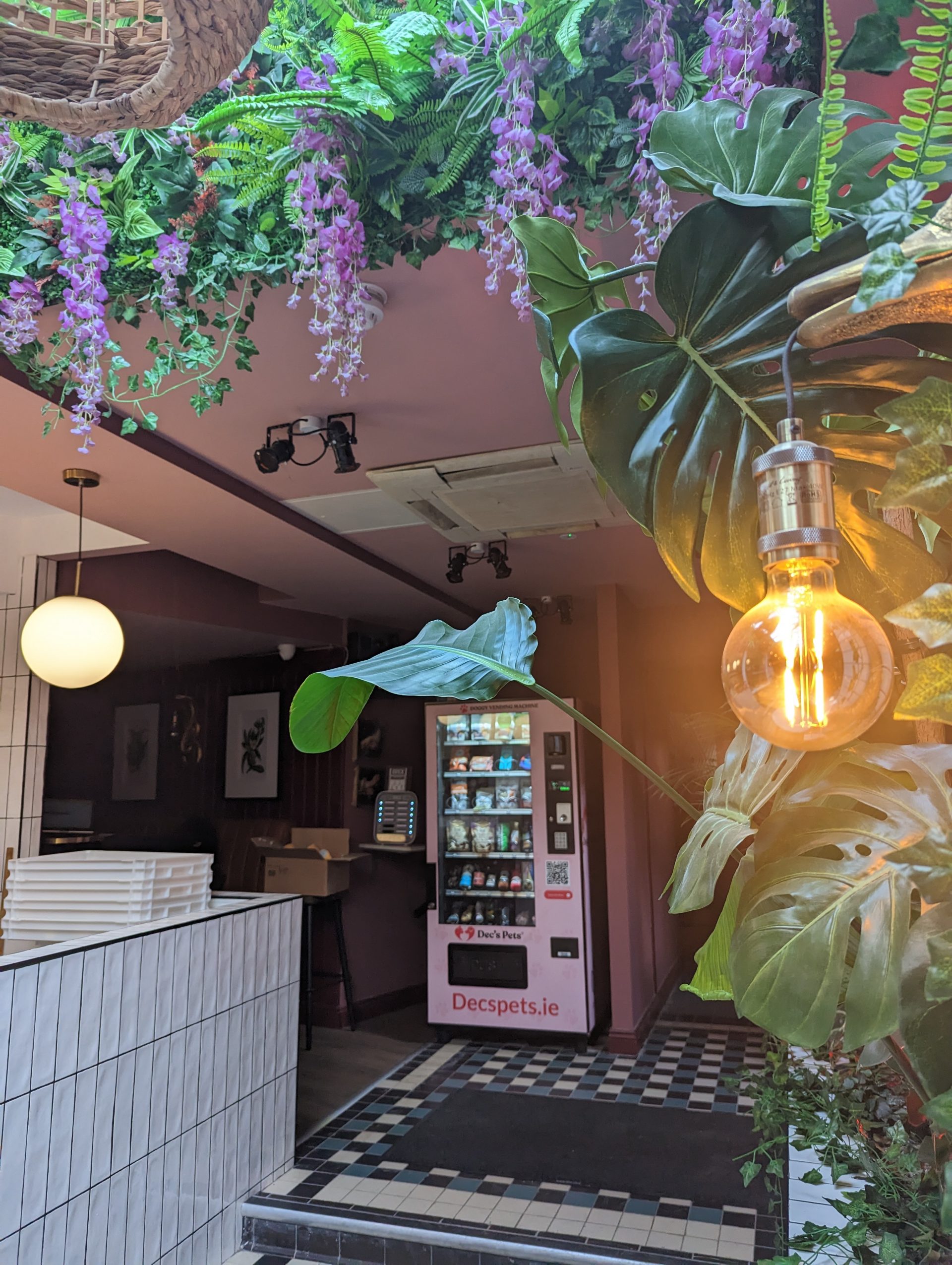 PYE Dundrum
If you're in Dublin and looking for a place to enjoy a pint with your pup, look no further than PYE. This new pub is located in the Dundrum area, and they are all about making sure both you and your four-legged friend get the best experience. There's even an entire doggy vending machine filled with toys, treats, beer-biscuits, accessories and beds made especially for them! Call ahead if you want to bring your dog with you and the staff will be more than happy to accommodate families of all sizes.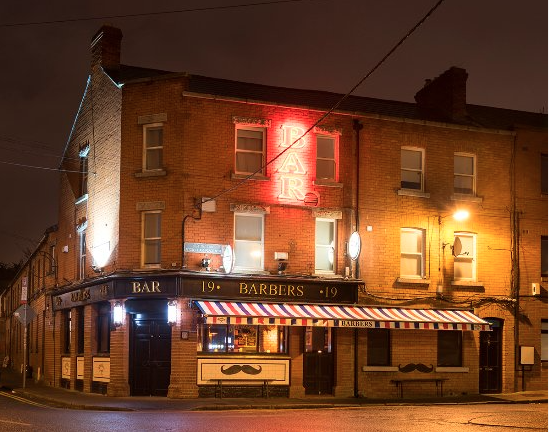 The Barbers Bar
The Barbers Pub in Stoneybatter is a sister establishment of PYE and the two pubs have made throwing doggy birthday parties seem like second nature. So much so that Snoop Dogg himself would be impressed by all the pampering put on for your pup's special day. With kindness and consideration extended beyond man's best friend, this is one place where both human residents and four-legged visitors always feel right at home.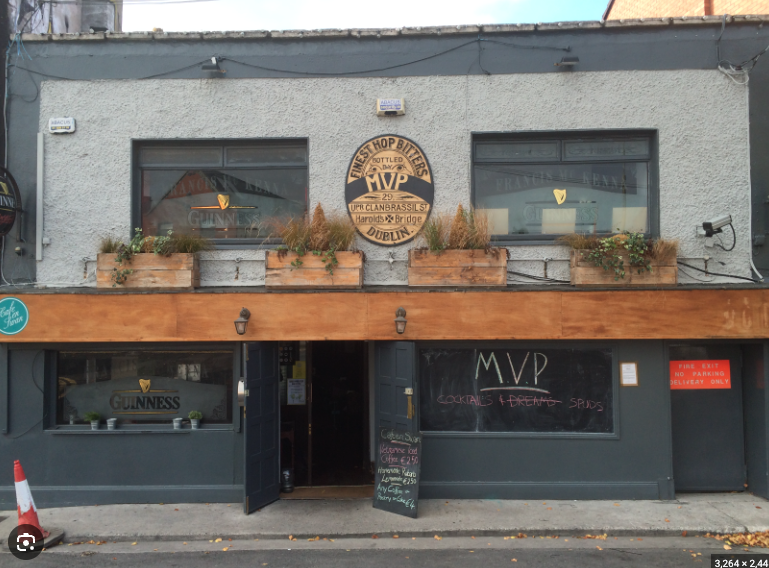 MVP
MVP in Dublin is an absolute must-visit for anyone looking for a good old-fashioned pub experience, complete with furry four-legged friends! The welcoming atmosphere of MVP will put both you and your pup at ease, making it the perfect place to grab some drinks and a bite to eat. They offer an extensive range of drinks, as well as specialty pizzas that will satisfy even the pickiest eater. Add to that their regular events and activities, such as their 6 Nations match nights upstairs, and you have a great way to spend quality time together without leaving home.
The true beauty of MVP, however, lies in its dedication to providing a safe and comfortable environment for human customers – as well as their furry ones. Dog owners can relax knowing that their precious pup is welcomed with open arms; whether they're settling down with a pint or joining in on one of the many social events around the area. On any given day or night you can find pooches lounging at the bar alongside their companions – so don't be shy about bringing your best bud along; everyone's welcome at MVP!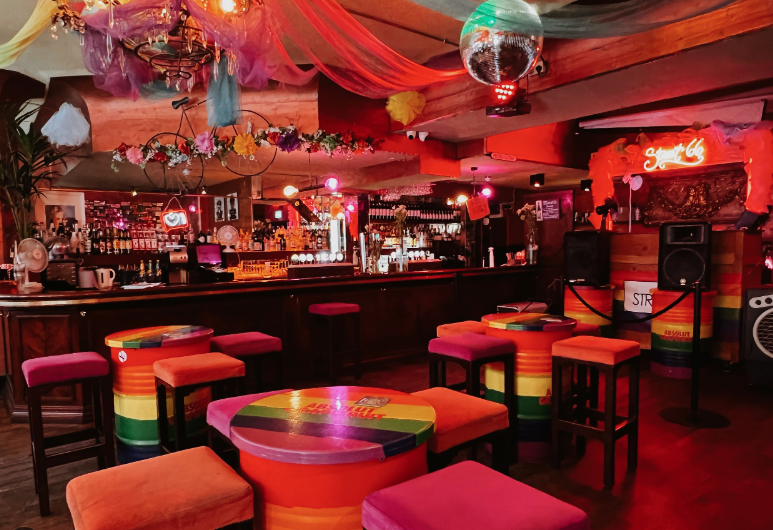 Street 66
Street 66 is a live musical bar tucked away in the trendy south Dublin. It's perfect for anyone looking to catch some music and drinks and bring their pup along too! They've designed the space with a mid-century modern aesthetic, complete with wooden tables, soft velvet seating, and an impressive selection of vinyl records. You can spend your night sipping one of their signature cocktails or coffees while you listen to the blend of genres that Street 66 has to offer: from jazz to reggae (or whatever genre they have in store).
The staff at Street 66 truly understand what it means to be dog-friendly. As soon as your four-legged friend enters, they will treat them like royalty! A pleasant and well-deserved break for your pet that will leave them feeling relaxed after such a long walk around the area. Not only that but they provide comfortable resting spaces for them so you can rest easy knowing your animal pal is in safe hands. Afterall at Street 66 both you and your pooch can share an exciting evening together without sacrificing comfort or convenience–the perfect place for two-legged and four-legged pals alike!
Dog Friendly Cafe's/Restaurant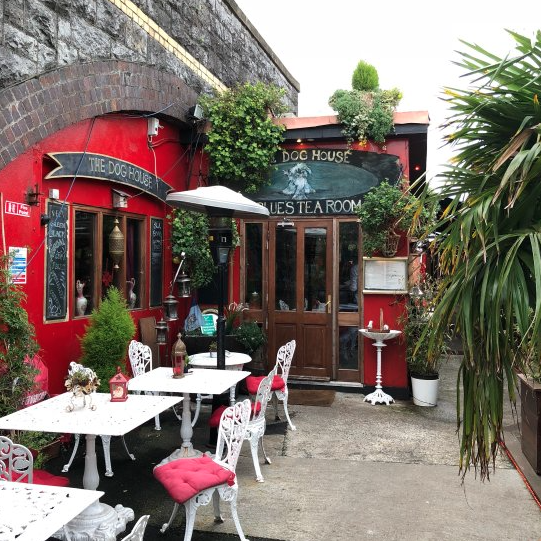 Dog House Blues Tearoom
Another perfect example of a dog-friendly restaurant is the Dog House Blues Tearoom. Located in beautiful Howth, this tearoom offers an extensive menu featuring pizza from their wood-fired oven – plus your pup can curl up on their own double bed while you relax in the outdoor living room. It's certainly one way to make sure both you and your furry friend have an enjoyable dining experience!
Little Bird
Another great place to bring your pup is Little Bird in Portobello. This café features an extensive vegetarian menu full of colour and flavour which is perfect for the health-conscious foodie. There's also an attached yoga studio that offers meditation and relaxation classes – the perfect treat for you and your pet! The welcoming atmosphere at Little Bird makes it easy for anyone to find a safe spot to socialize with their canine companion. And as if that wasn't enough, dogs here always receive extra special attention from the loving staff!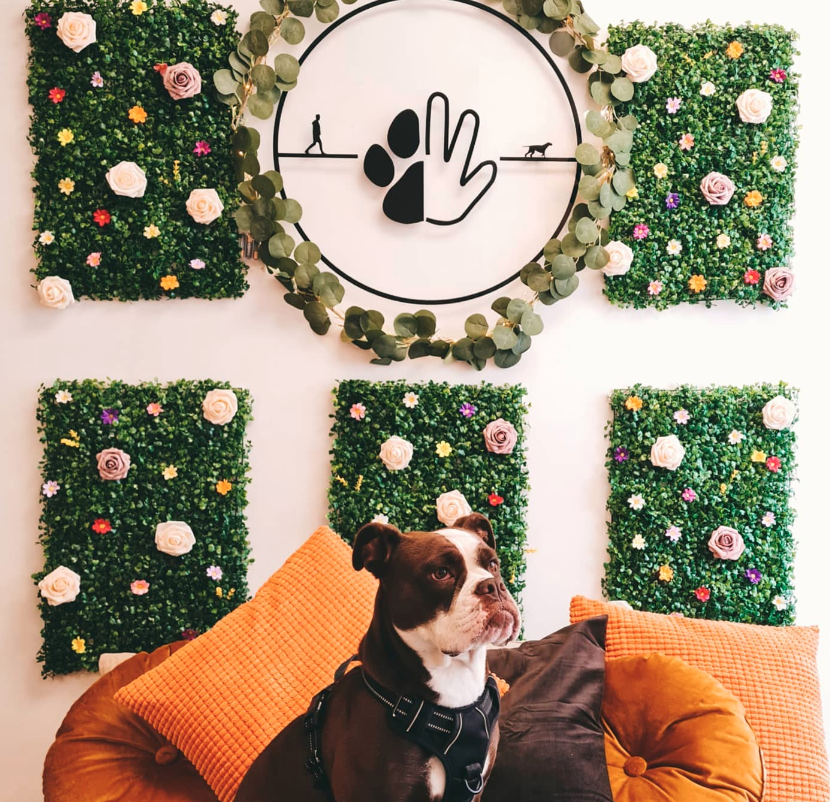 Ruff Cafe at the DSPCA
Ruff Café in Dublin is the perfect spot for any dog-lover looking for a casual and friendly place to enjoy a good meal with their pup. The café offers delicious speciality coffees, fresh-made brunch items, and plenty of outdoor seating where both you and your pooch can people watch. Furthermore, all dogs are welcomed with a bowl of water and lots of cuddles from the loving staff.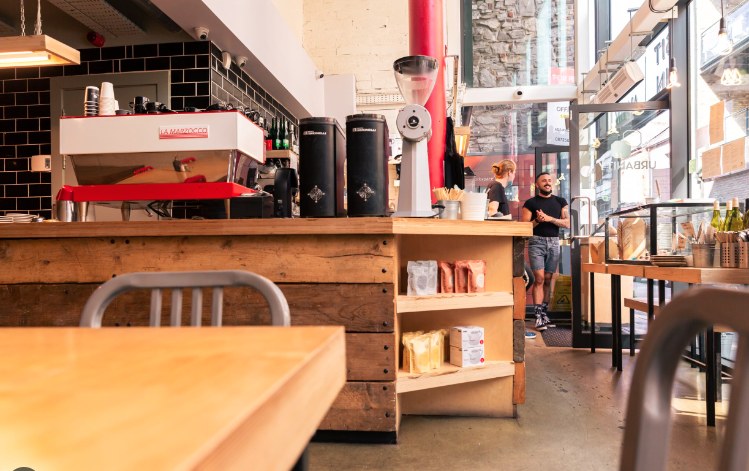 Urbanity
Urbanity in Smithfield is the perfect spot for a morning out with friends. It has a wide variety of brunch options ranging from sandwiches and omelets to pancakes and waffles. The environment of Urbanity is relaxed and inviting, featuring comfortable seating, plenty of natural light, and tasteful decor. On weekend mornings, the restaurant can become quite busy as locals gravitate to its welcoming atmosphere and scrumptious dishes.
The menu at Urbanity defines itself by its selection of specialty coffees, some of which are sourced locally and made to order upon request. Their baristas bring an expertise to crafting drinks that render coffee-lovers speechless with every sip they take. Additionally their specialty alcoholic drinks will keep guests at the table happy – even if it's only 11am! All items on the menu are prepared expertly and served in generous portions. If you're looking for an exceptional brunch experience near Smithfield then look no further than Urbanity, where the food is sure to satisfy and the vibes stay strong.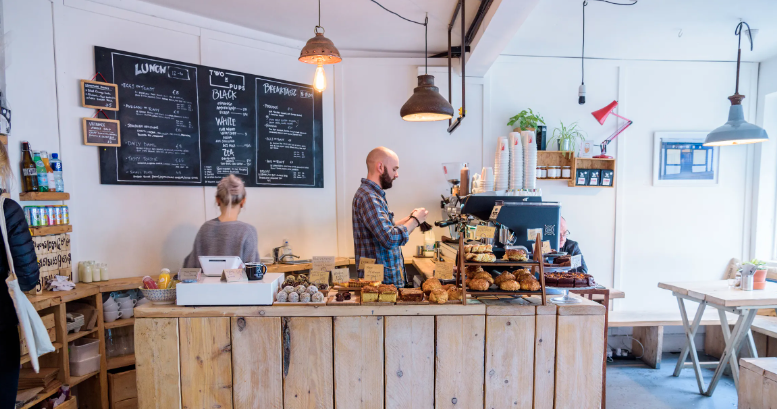 Two Pups Coffee
Two Pups Coffee
in The Liberties, Dublin 8 is the place to be on Friday, Saturday and Sunday. It's a popular hangout spot for locals and visitors alike, offering a range of delicious dishes and specialty coffees that will make your weekend brunch one to remember. Open only for walk-ins, you'll have to arrive early if you want to beat the crowd and get your spot!
An ever changing menu ensures something for everyone at Two Pups Coffee, with seasonal specials making an appearance alongside staples like mac n cheese croquettes, key lime pie french toast and breakfast burrito. And don't forget the homemade cakes – they're legendary! If you've brought along your pet pooch then you can even enjoy outdoor seating and watch the world go by. This little gem in The Liberties definitely slots perfectly into any good brunch itinerary!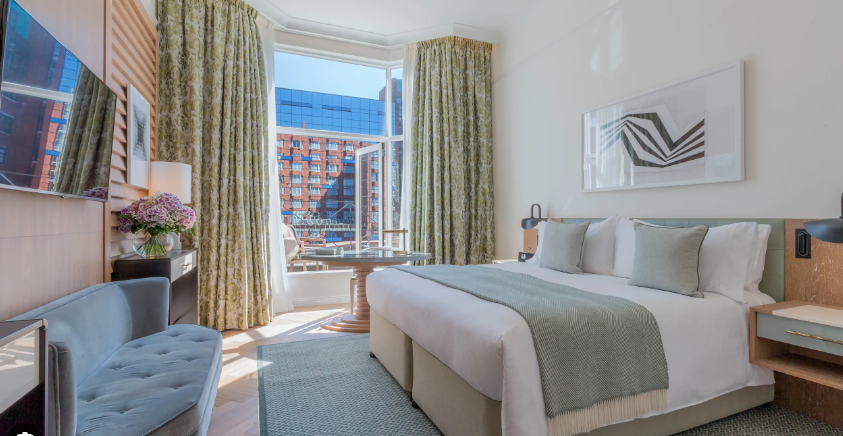 Conrad Hotel
The Conrad Dublin is an elegant 5-star luxury hotel located in the heart of Dublin city centre. Overlooking the National Concert Hall, the hotel is just a short walk away from Grafton Street and its myriad of shopping opportunities.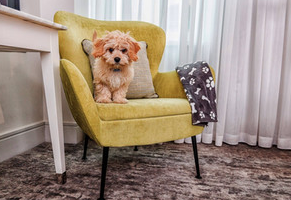 The Morgan Hotel
The Morgan Hotel is the perfect destination for a memorable break in the heart of Dublin. With its stunningly central location in Temple Bar, it has become one of the city's foremost addresses for pleasurable stays. From lively eateries and nightlife nearby to unique cultural experiences, whatever kind of adventure you are after, The Morgan Hotel has everything to offer.
Conclusion
Dublin's journey towards pet inclusivity has been one of growth and learning. From a history of restricted access to a present where dog-friendly establishments are on the rise, the city has shown a remarkable ability to evolve and adapt. The transformation from a once "unfriendly" city for dogs to a place where canine companions are warmly welcomed in some establishments  is a testament to the willingness of its residents and authorities to embrace change. A lot more is still needed to be done to minimise the stigma around Dog friendliness in the city and the rest of Ireland but we are going in the right direction.
For those living in or visiting Dublin with their dogs, the city's regulations, requirements, and pet-friendly options have been laid out, ensuring a smooth and enjoyable experience for both pets and their owners. Vaccinations, registrations, and considerations for public transport have been detailed, offering a comprehensive guide to responsible pet ownership within the city.