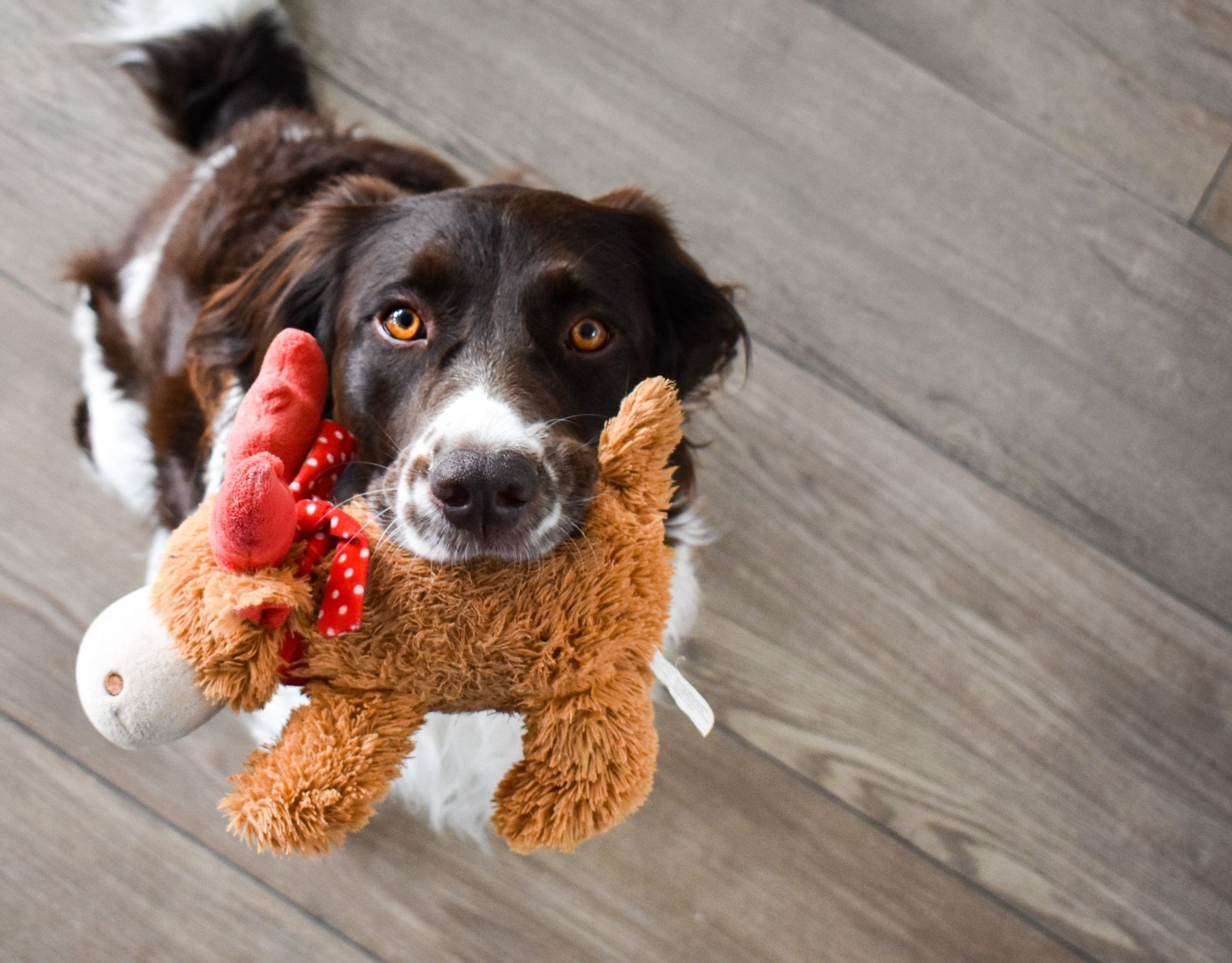 Dog toys, are they a waste of money, or a life saver? Read more to learn about our 5 favourite dog toys and why you need to add them to your shopping cart pronto! Boredom encourages bad behaviour; loneliness encourages separation anxiety; combine that with an instinctive intuition to chew and tear and you are left with a troublesome combination (& possibly some unfortunate looking furniture)
Happy & healthy
The key to a happy and healthy dog is to satisfy their innate behaviours such as chewing, tugging, chasing, smelling and scavenging. Engaging with these behaviours, simply means they will be physically, emotionally and mentally fulfilled. Resulting in a happier home life for both you and your pet.
So, where do you start? With hundreds of variations of dog toy on the market, it can be overwhelming. We have however narrowed it down to our Top 5, see below for Dec's Pets favourite picks!
The Low Down On Our Dog Toy Top Picks
Firstly, these dog chews are 100% sustainable and 100% natural. They are manufactured using the coffee bean plant from managed stock within plantations. Due to the close grain makeup of coffee wood, these sticks will not splinter and are perfectly safe for your dog to chew on for hours. We especially love this chew as they are very long lasting, meaning they are great value for money. They are essential for tartar and plaque removal and reduction and promote oral health. A great all- rounder! Prices start from €9.77
Bamboodles are made from a combination of Bamboo (did you guess) and Nylon fibres, which provides toughness and durability. Meaning even dogs with a tendency to be destructive will be kept entertained for longer. The innovative T-Bone design makes them easy for your dog to grip with their front paws. Whilst the ridges help to reduce plaque and tartar, promoting great oral health. Did we also mention that they come in two popular flavours? Beef and Chicken, so you can take your pick, based on your dogs own preference. This product comes very highly recommended from Dec and the team! Prices start from €7.50
The Busy Buddy range is durable, fun and comes in various sizes, shapes and styles. To ensure your pet focuses on chewing their toy's, as opposed to the furniture, the Busy Buddy is uniquely designed with attachable treats. This innovative screw on treat really will keep your hounds and scent driven pups and dogs satisfied for longer. TOP TIP: for dogs which drive you mad with licking, simply spread on some peanut butter (without Xylitol) and freeze overnight for a cool, long lasting treat. Furthermore, you can purchase refills. IN STORE BEST SELLER! From €16.50
The Kong Extreme Dental with rope promotes your dog's instinctual need to chew. Secondly it has the added benefit of cleaning your dog's teeth. The Kong dog toy well known classic rubber formula has of course been used in making this product, ensuring its durability. We recommend to fill the cleverly designed ridges with a paste, peanut butter or soft morsels of meat or fish to encourage play and prevent boredom. The all-natural rope has the added benefit of helping to remove plaque from teeth, through tugging and play. This is a very popular online and in-store purchase. €21 For some more inspo on what you can spread on your toy, check out this blog!
It wasn't possible to chose just one product from the Kong dog toy range, so here it is! This is a great chew and tugging toy for lots of interactive play. The Kong Ball with rope is strong, durable and is made from unique Kong rubber. The 100% natural cotton rope massages and clean teeth through play and, tugging and chewing and is a popular purchase! €17